Defense and Aerospace Logistics: Navigating India's Growing Market
India stands as one of the leading buyers of defense and aerospace technology and goods globally. The nation is steadfastly enhancing its defense preparedness while simultaneously expanding its civilian air transport sector with the induction of numerous civilian aircraft and the establishment of new airports nationwide.
A Thriving Industry in India
These significant developments within the defense and aerospace sector have given rise to a thriving market in India. Recognizing this tremendous opportunity, Siddhartha Logistics has established a dedicated department within the organization to cater specifically to the unique needs of the defense and aerospace industry in the realm of international trade and supply chain logistics.
Offset Obligations and Unique Logistics Challenges
Many of India's substantial defense contracts entail offset obligations on the part of Original Equipment Manufacturers (OEM) suppliers. Meeting the distinctive requirements of Indian offset logistics involves the intricate movement of goods to and from various aerospace and defense entities for vendor development programs, displays, testing, calibration, and validations. This necessitates frequent movement of goods between OEMs, Ministry of Defense (MOD) clients, and numerous Indian offset partners, including candidate partners.
Innovative Solutions via Free Trade Warehousing Zone
Siddhartha Logistics has proactively identified and devised specific supply chain solutions by leveraging our Free Trade Warehousing Zone located in Sricity, Andhra Pradesh, India. Our offerings provide solutions and services that are unparalleled in the industry. These solutions are meticulously tailored to address the complexities of defense and aerospace logistics in the Indian context.
A Global Network of Patronage
Through our specialized services catering to various stakeholders within the defense and aerospace industries, Siddhartha Logistics has earned the consistent patronage of companies from across the world. Our commitment to excellence and our deep understanding of the intricacies of this sector have solidified our reputation as a trusted partner.
Streamlined Logistics for Cost and Time Savings
The implementation of Indian offsets involves managing a complex web of supply chain logistics spanning various Indian offset partners at multiple levels, in addition to OEMs. This dynamic environment entails the constant movement of various materials, including raw materials, components, parts, accessories, assemblies, sub-assemblies, aircraft parts, and engines. Through our Free Trade Warehousing Zone, we have successfully contributed substantial savings in terms of both time and cost for our clients in the industry. At Siddhartha Logistics, we recognize the critical importance of navigating the intricate landscape of defense and aerospace logistics in India. Our team is dedicated to providing innovative solutions that streamline operations, save costs, and ensure that your goods move seamlessly within this dynamic industry. Contact us today to explore how we can support your endeavors in the defense and aerospace sector and help you capitalize on the burgeoning Indian market.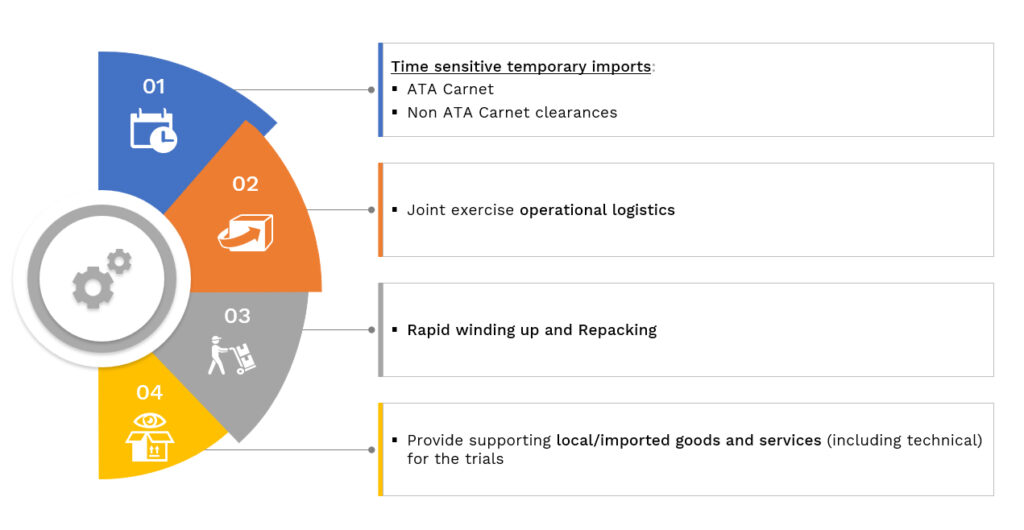 Free Trade Zone Logistics
Contact for more details
Mr. Pruthvish Thaker